1 May 2011
Spring Tiptoes In
Despite the recent cool and rainy (and sometimes snowy) weather here in the Inland Northwest, spring really is here. This April has been cooler and wetter than normal—the La Nina effect is still in place—so early spring growth is a bit behind schedule, but that bodes well for procrastinating wannabe gardeners like me. I've been thinking about planting some lettuce and herbs in a container on my front porch, but so far that's all it's been—thinking. The container would just supplement the produce I get from the farmers market, but I'm thinking it might be nice to have baby lettuce leaves and other green, growing things right outside my door. Can I do what I need to do to make that happen? Stay tuned.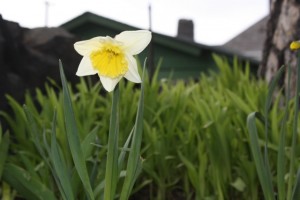 Within the month, our local farmers markets will begin to open for another season. Sandpoint and Moscow kick things off on May 7, and the downtown Spokane Farmers Market—the closest to my neighborhood—opens on May 14. South Perry, Liberty Lake and Millwood all start up in mid-May as well. While the early markets will have sparse produce offerings, they can be a good source for seedlings and plant starts. Still, I'm looking forward to those first local vegetables: lettuce, green onions, spring peas. They bring the taste of hope and renewal after a long, lean winter.
Speaking of spring veggies, I had my first taste of Washington-grown asparagus this week, thanks to a shopping trip to the Rocket Market last Sunday. I've sautéed chopped asparagus with green onions and lacinato kale as a base for my morning egg, and last night I threw some asparagus pieces in with a sauté of bay scallops. Now I'm going to steam the remaining spears and marinate them in a blend of soy sauce and garlic.
I bought the bay scallops at Huckleberry's the other day. Bay scallops are the little guys, about the size of your fingertip. I love the bigger sea scallops, but they cost twice as much, so I passed them up. The bay scallops ($9 per pound) are farmed, but according to the Monterey Bay Seafood Watch, it's a sustainable fishery (as long as they're farmed in the U.S., not in China, where practices are more questionable), so I can even feel virtuous about my less-expensive purchase. I spent about $6 for two-thirds of a pound of scallops, and I got two meals out of the deal. Not cheap, but not exorbitant, either, and I'm supporting a sustainable fishery while eating food that's good for me (and delicious, besides).
Since the cool, damp weather has continued to hold us in its grip, I've had lots of opportunities to reprise some of my wintertime favorites in the kitchen—and even try out some new things. The latest new thing was a batch of black bean chili that I threw together earlier this week, for my weekly yoga potluck on Tuesday.
The source recipe came from the website of Fine Cooking magazine, but I changed up a few things based on what I had on hand. (The link to the original is here; my adaptations are on the Recipes tab.) I had enough left over that I was able to share it at another potluck on Wednesday night, and I even have another meal or two left—not a bad yield for a pound of hamburger, a can of black beans, and a can of tomatoes. I served the chili over brown rice on the first night; for the second dinner, I mixed the leftover rice into the chili and cooked it down to the consistency of a casserole. The special ingredient here is chipotle in adobo sauce, which adds a lovely smokiness (along with a bit of a kick) to the dish.
In the interest of full disclosure, here's what went into it and the cost: a 28-ounce can of organic crushed tomatoes (Muir Glen's Fire-Roasted; $3), a 16-ounce can of black beans (not organic, Western Family brand, I think; it was a gift, but I'm guessing they retail for less than $1), a one-pound package of Painted Hills ground beef (grass-fed, Northwest regional product; just under $4), two cloves of garlic (I bought a head of Northwest-grown garlic at Huckleberry's for $0.72), about half of a large yellow onion (organic, Northwest-grown, $0.89 per pound), one small zucchini (organic, from either Mexico or California, given the season; $0.40), about a cup of red wine (a cab-merlot blend, about $8 per 750-ml bottle, meaning one cup would run $2.67), two tablespoons of chipotle in adobo sauce (about $2.25 for a 7-ounce can; I used what I needed and froze four more two-tablespoon portions), a few sprigs of cilantro ($1.49 per bunch at Huckleberry's), and the rice (organic basmati, maybe $0.50) plus olive oil, lime juice, salt, pepper, cumin seed and chili powder from my cupboard. Total cost was roughly $17, and I got about 10 servings out of the deal, along with a few leftover ingredients (garlic, onion, chipotles in adobo, about a half-cup of the tomatoes) for later use.
While this may seem like a fairly steep price for a single dish, it delivered benefits that are less quantifiable but no less real. I shared this meal with friends two nights in a row; in return, I received the pleasure of their company, a few good laughs, some thoughtful and poignant moments, a couple of glasses of wine, and a serving of each of their dishes, including dessert, on both nights. I enjoyed improvising in the kitchen—I worked from a recipe but tweaked it to suit my needs. And now, as I'm finishing up the leftovers, I have some great memories to dwell upon.
When I talk about "relationship food," this is what I mean.