3 Jan 2011
Hey, Baby, I'm Trendy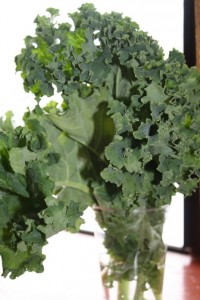 According to a report on NPR this weekend, one of the "it" foods this year is kale, the lovely and sturdy green that's so readily available around here in winter. After stating that "vegetables are the new meat," the report continues: "One of the most glam vegetables will be kale. Look for the frilly bouquet of slightly bitter, dark greens both cooked and raw in a salad."
"Glam" as a modifier for "vegetable": Now there's a word combo I never thought I'd see.
If you've been following along here, then you know that I mention kale often. Kale was a regular part of my CSA box during the summer (along with chard, spinach and beet greens), and it's easy to find at Huckleberry's, the Main Market and the Rocket Market when the weather turns cold. I have sautéed kale nearly every morning as the base for my morning egg, and I add it to soups and stews regularly. On Sunday, I even tried something new—lightly sautéed kale dressed with diced apple (Fuji) and chopped almonds, sort of halfway between a warm dish and a salad. (I was inspired by a recipe in the New York Times for a salad made with thinly sliced kale, plus apples, almonds and chunks of cheddar, in a lemony vinaigrette—thus proving that kale is indeed being seen in all the hip places.)
There's a bag of kale in my fridge even as we speak. Guess I'm a kale rock star. I am the queen of this year's glam vegetable.
I've never really been one of the cutting-edge cool people before, so I'm not entirely sure how I should act.
I think I'll ignore my newfound coolness for now and just talk about the kale-and-apple dish for one. (If you're more than one, multiply accordingly.) First, I cut the kale (a leaf or two, depending on size) into thin strips, removing the tough center rib first, while the sauté pan is heating. Then I put a combo of olive oil and butter (for extra richness and flavor) in the pan. When it's hot, I add the sliced kale, sprinkle on a tiny dash of salt and pepper, and throw in some onion (dehydrated ones today, to save time, but often I use chopped fresh onion), then stir it all around until everything's coated. Cook, stirring, over medium heat for a minute or two, until the kale turns bright green and begins to soften. Add a splash (a tablespoon or less) of water (or green tea) and cover, reducing heat. While the kale is steaming, chop up a quarter of a Fuji apple (skin on, for color contrast) and about a dozen almonds. When the kale is tender (but still bright green; less than five minutes), arrange the cooked kale on a pretty plate and top with the chopped apple and almonds.
The entire preparation of this dish took maybe ten minutes, but it's ten minutes that fewer and fewer Americans are taking these days. As food writer Mark Bittman noted on New Year's Eve in the New York Times, Americans are cooking less even as we spend 35 hours each week watching television (and several of those hours involve watching other people cook). Bittman contends that with a repertoire of three dishes people can learn to cook for themselves, without relying on takeout, processed or convenience foods (other than frozen vegetables). His three dishes are a stir fry, a rice-and-lentils dish, and a chopped salad—all veggie-heavy meals that can be made either with meat or without, with plenty of variations.
And I think he's onto something. With a stir fry, the nascent cook learns the art of the sauté; rice and lentils get cooked in water on the stovetop. The salad requires no cooking at all, only chopping—thus developing good knife skills. You wouldn't even need an oven to turn out these healthful meals.
But without an oven, you'd miss out on the joys of freshly baked bread, or cookies that are still warm—like the newest variation on my basic wheat-free cookie recipe: Mexican chocolate cookies, inspired by a recipe posted by Celeste Shaw on the Chaps Coffee Co. Facebook page.
I followed my recipe for Chocolate-Ginger Cookies (see Recipes tab), substituting chili powder for the ginger in the dough, and then rolling the dough in a blend of sugar, cinnamon and cayenne. Oh-so-very tasty, especially fresh from the oven.
Next time, I'll tell you all about my adventures in braising. But for now, it's quiet time, as I bask in the glory of my new trendiness—because I know it won't last long.