14 Dec 2010
Soup and Bread. Again.
When last we met, I was heading to kitchen to make soup. Well, that soup turned out delicious, and it was the start of a soup-making frenzy over the past month, just in time for the onset of winter weather.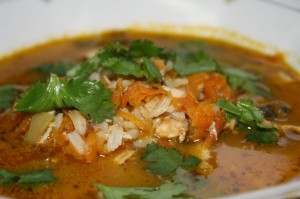 Inspired by a recipe for Mexican Turkey Stew that I saw on the Hispanic Food Network site (http://www.hfntv.com/), I first made a sort of Mexican-influenced chicken soup. Salsa and a hot pepper added a touch of warmth, but the rice and the broth kept things from getting too heavy.
Here's the lowdown: Sauté chopped onion, garlic and hot wax pepper in olive oil. Add ½ cup white wine, plus a dash of oregano and chili powder. Next, add about 1 quart-plus of chicken stock, plus cut-up leftover chicken. Stir in ¼ cup of mild salsa, and 1 large carrot (or 2 small ones), grated. Pull the leaves off several stems of cilantro until you have about ½ cup of leaves; chop the stems and add them to the soup now; set aside the leaves. Add a sploosh of cider vinegar. Let simmer for 1 to 2 hours. About 20 minutes before serving, add 1 to 2 cups leftover cooked brown rice. Just before serving, stir in the cilantro leaves.
The end result? Seriously yummy.
That soup was so popular that I made a second batch the following week. (And it disappeared just as fast as the first one.) Then, on the day before Thanksgiving, I bought myself a rather large fresh free-range turkey from Huckleberry's. (They had them on sale for $1.99 a pound.) I knew I was going to be a guest on Thanksgiving and thus would have no leftovers. I did a basic roasted turkey, with gravy, Delicata squash, sweet potatoes and improvised cranberry chutney. My friend Craig joined me for that meal, then I made a big pot of turkey stock on Saturday, as the snow fell all day. I froze most of the stock and much of the meat but made a batch of turkey mole soup on Sunday, to share with friends. It, too, was kind of an improvisation, and I had a few nervous moments before all the spices mellowed out, but it worked out pretty well. I don't think it was quite as successful as the first Mexican-inspired chicken soup—it'll take some tweaking if I decide to make it again—but it was definitely hot and hearty.
Last week, I switched over to beef and resurrected a beef stew recipe from my well-used (vintage 1983) copy of The Loaf and Ladle Cookbook. (I used to hang out at the Loaf and Ladle restaurant and bar in Exeter, New Hampshire, back in the late 1980s, when I lived staggering distance away.) I had fond memories of this stew recipe, but it turned out to be too sweet for my taste now. Still, there was much to love about it. I love that it is rather brothy, because it's not thickened other than by the star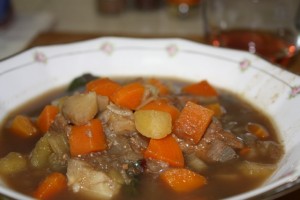 ch from the potatoes. (I used sweet potatoes, which delivered less starch, I think, along with some extra sweetness. I also added a parsnip, adding even more spicy sweetness.) Next time, I'll cut back on the added sugar, and chances are good that won't have a parsnip that needs to be used, either.
No soup so far this week, although I did just make a batch of meatballs (a 50/50 mix of ground beef and turkey) and sauce for a potluck that I'm hosting on Wednesday. Maybe soup on Friday. We'll see.
Yesterday, I finally climbed back aboard the bread-baking wagon, after October's no-wheat edict knocked the wind from my sails. (How's that for mixing metaphors?) After a chance conversation with Rene Featherstone of Lentz Spelt Farms the other day—he was in town delivering products to Petunias Marketplace while I was briefly holding down the fort there—I felt more confident about working with spelt dough. I tracked down a couple of recipes online for spelt bread, chose one, and off I went. The gluten that forms with spelt is not nearly as hardy as wheat gluten, as Rene had warned me; it won't hold up to much kneading, and the dough is almost more like batter than bread dough. And even though the second rise brought the dough beyond the height of the loaf pan, it deflated slightly with the jostling of getting the pan into the oven. The top ended up flat and even with the sides of the pan. Despite that, though, the texture and taste were lovely. (And I don't think it was just because I've gone two months without eating any bread.) The crust browned nicely, and the interior crumb was fairly light and not at all coarse. I splurged on a couple of big, thick pieces while it was still slightly warm—with butter on top, of course—and it was a wonderful treat. I'm thinking there will be more experimentation in my future.
No deep thoughts for today. Just cooking.